Dropshipping is a very popular eCommerce model. It means that you don't have to invest in purchasing products before they are sold. You just order a product from a wholesaler when a customer buys one.
But getting success in the dropshipping business has become harder nowadays. You need a product with high-demand and low competition. Finding such a winning product requires time and effort.
This is where Ecomhunt comes in. Ecomhunt is a product research tool that makes it easier for merchants to find hot products, especially those with high profitability. It saves sellers time by doing the product research on the eCommerce market on their behalf.
Ecomhunt is a service that curates and lists products with high sales potential. In this Ecomhunt review, we will find out what they do offer, how they compare with similar tools and if it is worth your money or not?
Ecomhunt is a product research tool that ecommerce entrepreneurs can use to find hot new products on the eCommerce market.
Many eCommerce merchants are overwhelmed by the amount of eCommerce platforms where they can sell their items. At the same time, this makes it difficult for them to find best-selling products because there's just so many eCommerce websites.
Ecomhunt makes product research faster, easier and more accurate by curating ecommerce platforms into one list that ecommerce entrepreneurs can use to find products with high sales potential.
Ecomhunt allows you to gain access to comprehensive product information and provides useful details about them, such as:
Product description with images
Profit margin and cost information
Analytics
Engagement details from social media
Links to stores selling the products
Facebook ads data and real-life examples
Product videos
Targeting tools and ideas
Reviews from buyers
Ecomhunt Review : Features
Ecomhunt is built with ecommerce entrepreneurs like you in mind. It's a simple and effective ecommerce tool that helps ecommerce entrepreneurs find eCommerce products more accurately and save time by executing the product research on their behalf. So, what does Ecomhunt offer?
Ecomhunt Classic is a curated list of the best dropshipping products compiled by the Ecomhunt team of experts. Ecomhunt uses data from different ecommerce platforms like Amazon, eBay, Aliexpress and Etsy to help you find the best products.
The tool adds two new winning products each day, on average. However, if you're using the free edition, you'll have to wait three days before seeing new products.
Ecomhunt provide you various filters to start searching the products from the database. These are various filter available to narrow down the number of products. These filters are as follows:
Sort by – You can use this filter to sort the product list by Orders, Newest first or Oldest first.
Category – You can use this filter to search the products from a selected category of products.
Offer Type – You can use this filter to narrow down the product list by offer list such as Free Shipping, Funnel or Retail Price.
Range – You can use this filter to narrow the product based on the date added range such as last 7 days, 14 days etc.
The tool provides you great winning products and some filters to narrow down the list. But we think it lacks in offering advanced filters such as price range, profits, found dates, shipping methods, the number of stores selling, the number of Facebook likes & shares, etc. that other product research tools are offering.
After you have selected the filter and hit the Search button, Ecomhunt will display you the product search results with various metrics to help you evaluate the products.
Every product box displays various product details such as products image, name, Posted, and Available info icons. It also has two buttons, one for viewing more product information and the other for adding a product to Save for later.
To view the more information for any product, click on the button Show me the money. The provided details will be as below:
Product Name – The first thing on the top is the name of the product.
Date Posted – When the product was posted on AliExpress website.
Product description – An example product description will be provided that you can use. But we recommend you to use your own unique product description as this will be copied by almost all users.
Import to Shopify button – This button allows you to import the product to your Shopify store. More on this later on.
See on AliExpress – Clicking this button will navigate you to the AliExpress product page, where you can get additional information about the product.
Product images – There are few images of the product that you can use in your dropshipping store.
Profits and costs – Here they display the recommended selling price of the product. They also display you the product cost and the profit margin, if you sell this product in their recommended price.
Saturation Inspector – They provide you the estimated number of stores currently selling this product.
Profits – This section displays you the profit margin, CPA (Cost Per Acquisition) and your net profit margin for the product.
Analytics – This section displays you a short summary of the stats of the AliExpress seller that they recommended. They also have a button there to show the reviews, but that will only make you scroll down (where they show the AliExpress reviews).
Engagement – These are the engagement stats of what Facebook gives as an example. This way, you can easily see if the Ad is doing well or not. These stats might be outdated after placement, so do make sure to check back!
Links – This section displays various product related links, such as AliExpress seller, Alibaba and Amazon product page, link to the Facebook Ad etc.
Facebook Ad with comments – Here they show a screenshot of the Facebook Ad with the comments. You don't need to go onto the ad yourself, but you can still see recent engagement statistics (like how many likes) and comment history by going to the Facebook Ad yourself.
Facebook ad targeting – Here you can see some details about whom you should target on Facebook, such as age, gender, languages etc.
YouTube video – They also show a YouTube video in this section, to give you an inspiration for your video ads.
Facebook targeting suggestion – This is the same as Facebook ad targeting, but it's easier to see whom to target, gender, age range and audience size.
Instagram Influencers – If you are looking for the Instagram influencers for your marketing, then this section display you many Instagram influencers in the same niche as the product.
Real Buyers Reviews From AliExpress – This section allows you to see the reviews of the product on AliExpress.
More winning products from same category – This section displays more similar products from the same category.
So, we can see that Ecomhunt provides you lots of data for a product to decide you if the product is a winning product for your dropshipping store.
Through the Ecomhunt Live feature, you'll be able to find the latest dropshipping products that have been featured on Ecomhunt within the past 24 hours. The information is continually updated to ensure that it is always up-to-date.
If you click on any product, you'll gain access to a good deal of additional information.
The tool tracks the global trend in the product's last three months and displays the AliExpress 30-day orders growth, daily sales movement, daily wish movement, consumer score, and top countries by interests & orders. Using this information can assist you in determining whether a product is worth your time or not.
Ecomhunt Lucky will provide you with a different product each time you press the "Get Lucky" button. However, the smart filters provided can help you find dropshipping products with huge potential.
The product is displayed with few metrics such as monthly visits, Ecomhunt 24h score, profit margin, AliExpress orders growth, Top countries by orders etc. The four smart filters are trending, high margin, top score, and low visits.
Trending: The filter is based on information from the Ecomhunt LIVE feature, which indicates whether a product is popular or not.
High Margin: You can use this filter to find high-margin products and make a large profit.
Top Score: This is Ecomhunt's calculated score, which is based on various measures including Google trends, AliExpress interest, number of visitors, and profit margin. The higher the index, the more effectively the product will perform.
Low Visits: The low visits metric may be used to discover less competitive products.
Ecomhunt Lucky is more than just a gimmick. You may use the function to discover perfect products if you have some knowledge in researching successful dropshipping products.
The Ecomhunt Tracker is a recently launched tool that allows you to monitor the sales performance of any AliExpress products.
To add a product to the tracker, click the red "+" button in the right corner and paste your AliExpress product link into the text field. Ecomhunt will start collecting data about the item, and it will be available for viewing in 24 hours.
There are six key metrics you may track: Sales Today, Sales Yesterday, Sales 7 Days, Sales 30 Days, Wish 30 Days, and 7-Day Growth. When you click on any product, you can view some additional charts such as orders over time, wishes over time, growth over time, and reviews over time.
Ecomhunt has added a new feature called Ecomhunt Adam – Your personal AliExpress winning product researcher. Adam is a more advanced search engine that was created to assist you sell the most popular items on your dropshipping business.
Ecomhunt Adam displays you a list of top winning dropshipping products based on number of orders in last 24 hours. Adam is refreshed on a daily basis, so you may expect new items almost every time you visit.
On the left side of the screen, we have the Advanced Search tool, where you may enter any phrase you wish and narrow down the results. You can filter out items by daily or total purchases, as well as set a product's minimum/maximum price.
There's also the option of sorting the displayed items by today's sales, total sales, price, and the time it was added. You may choose to show the newest products first, those with the most sales, or anything else you believe will bring you your next success.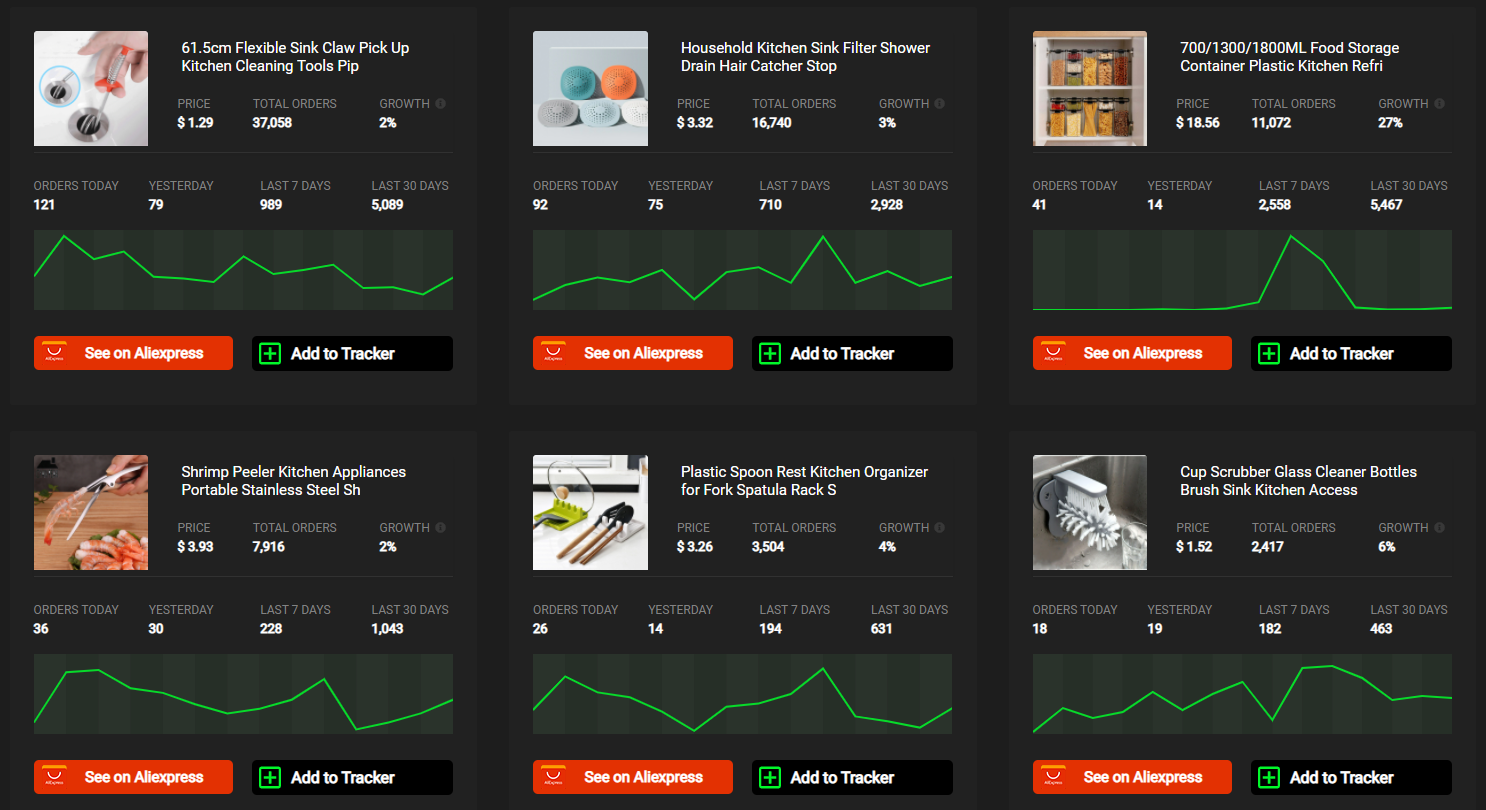 Several metrics are displayed for each product such as product name, price, total orders, growth percentage, orders today, yesterday, last 7 days and last 30 days. There's also a graph displaying the daily orders for the last 30 days.
Simply click the orange "See on AliExpress" button to go to the AliExpress page. If you select the Add to Tracker option, the product will be added immediately to your tracker.
Ecomhunt Chrome Extension
Ecomhunt also has a Chrome extension that removes all the clutter from your Facebook newsfeed to show only advertisements. You may quickly discover Facebook advertising for other dropshipping companies on your Facebook homepage.
To quickly find new winning items, you can use Ecomhunt Chrome extension to one click inspect your competitors and show only the active competitor ads running on your Facebook home feed.
Some features of Ecomhunt Chrome extension are as follows:
Show only sponsored posts – To view all ads running right now, filter your home feed.
Show only viral sponsored posts – To see the most viral advertisements presently running on Facebook, use the Viral Ads filter.
Shopify store inspector – With a single click, you can now reveal almost any Shopify best sellers, new goods, applications utilized, theme, Facebook advertising and much more.
AliExpress's products tracker – Add any AliExpress item to Ecomhunt tracker with add to tracker button and see how popular it is, how much money it's made, and more.
Ecomhunt Review: Importing Products
You can import any product from Ecomhunt to your Shopify store in a matter of minutes. The product you choose will be immediately imported to your shop, along with additional information such as Description, photos, selling price, and more with just a click of a button.
On Ecomhunt, the import to Shopify button will appear on each item you discover. To begin the process of importing your items to your store, click the import button; a popup box will appear.
Enter your Shopify store URL in the text box provided and click on the button Get Started. This will lead you to your Shopify admin dashboard and will ask your permission to install Ecomhunt Shopify app to your Shopify store.
Give your consent by clicking the button Install app to install and connect the Ecomhunt app to your Shopify store. Once it is completed, you will be navigated back to Ecomhunt, and now when you view any product detail and click on the button import to Shopify, you will see your connected store in the list as shown below.
The import process is finished in a few seconds when you see the green confirmation button appear and can even click on it to view the imported product in your Shopify store.
Ecomhunt provides you 2 types of membership.
Free Membership – You can use the free membership to gather product intelligence, but you will have fewer features with this membership level
Premium Membership – For just $29 per month, Ecomhunt premium members have access to absolutely everything on the platform.
You will be able to search for products using a more advanced search engine with a variety of filters. You can also view daily sales, track products and import the most profitable ones to Shopify with one click.
Ecomhunt provides you a 30-day money-back guarantee for their premium memberships.
Ecomhunt Review: Customer Support
Ecomhunt is a very reliable platform with good customer support, so you are unlikely to have many issues. Ecomhunt has a number of resources to assist you with your dropshipping endeavors.
Ecomhunt has a live webinar series with sessions on everything from selecting winning items to Facebook Ads for store optimization.
If you're new to dropshipping, check out Ecomhunt's training videos to get you up and running. Ecomhunt has a wealth of information on how to start dropshipping, set up Facebook Ads for a business, and other methods for improving store conversion.
Then there's the Ecomhunt YouTube channel. The Ecomhunt team updates the channel frequently to offer you with various new methods, suggestions, hacks, winning items, and interviews with many 7-figure dropshipping professionals.
The Ecomhunt Blog is one of the most active blogs about dropshipping, where you'll discover a wealth of information on dropshipping methods, product breakdowns, store breakdowns, and more.
Ecomhunt Masterclass is a free 10-day online course that teaches you A-to-Z about dropshipping. If you want to learn more about dropshipping, Ecomhunt Masterclass is an excellent choice.
It's a $199 online dropshipping course with 14 chapters and 70+ video practical lessons on the topics such as building high-converting stores, advanced Facebook Ads, copywriting, and email marketing
Ecomhunt also has a large and active Facebook group with around 80k members. You can join the group, ask any question, and receive an answer from other participants or the Ecomhunt staff.
AliShark Review : Alternatives
Ecomhunt is a great product research tool for your dropshipping store, but there are some other tools also that are as good. Let's have a look at some of them:
AliShark – AliShark is a cloud-based product research tool for dropshipping businesses that provides a list of hot selling products with a statistical breakdown of the performance of each product. AliShark is a spy tool that evaluates the data of AliExpress products and provides dropshippers the winning products to sell on their dropshipping store. They offer their subscription plan at $20 per month after the trial period is over.
Sell The Trend– Sell The Trend is a popular and relatively new product research tool that has recently lunched in the market. It helps you find the hot products to sell online, driven by the data. You can also import the products directly to your Shopify or WooCommerce store and also lets you fulfill orders with one click from AliExpress. Sell The Trend offers a very straightforward pricing model. The price of the platform is $39.97 / month when paid monthly and $32.97 / month when paid annually.
Niche Scraper – Niche Scraper is a cloud-based product research tool that helps you in finding the winning products to sell on your dropshipping store. It is a research-based tool that you can use to spy on other Shopify store and AliExpress to find the current trending highly profitable products. Niche Scraper offers two pricing plans – Free and Pro plat at $49.95 / Month.
Sale Source – This tool helps you to research unsaturated products, find top dropshipping suppliers, and discover competitor's ads. A unique feature it offers is that it allows you to find apps a Shopify store uses, their best products, recently added products, and estimated sales. They also offer a Chrome extension to quickly analyze various products from AliExpress.
Conclusion
Ecomhunt is an effective dropshipping solution that can help you find products with high demand, allowing you to get ahead of the competition.
The platform provides many tools for researching dropship items, monitoring your competitor's listings and evaluating customer behavior. If you are looking for a reputable dropshipping platform or ecommerce solution, you should definitely give it a try.
Ecomhunt is an excellent option for anyone who wants to find profitable dropshipping products and monitor the competition. Ecomhunt is available for free for 30 days, so why not give it a try? You can always cancel your membership if you're unhappy with the service and get a refund.